If you or your family members notice missed milestones or spot red flags in your child's development at any age, then please visit a Pediatrician and have them evaluate your cause for concern. The Pediatrician will most likely observe and assess your child, and recommend a developmental evaluation/assessment to study the child's growth. In a developmental evaluation you will be required to answer a host of questions pertaining to the physical, social and emotional aspects of your child's development. This is done to ensure all faculties in your child's body are functionally typically.  In addition, the child will be monitored for any symptom or signs, through tests (hearing, vision, and physical examination to name a few) by concerned specialists to rule out or detect any cause for developmental delay in the child. Depending on the severity of the condition detected, the doctor will advice you on what steps you need to take in order to manage the prognosis.
Remember, a developmental evaluation is just addressing possible concerns in your child's development. Getting an evaluation done does not mean the diagnosis of a developmental delay is certain. It is entirely possible that no developmental delay may be detected as a result. However, in the event that a delay has been spotted, an early detection can prompt you to seek the benefits of early intervention. By intervening early you are greatly increasing your chances for better developmental outcomes of your child's growth and health.
Developmental assessments in India are routinely conducted by Pediatricians. However, lately a few Pediatricians are obtaining specialization and training exclusively in matters related to child development. This sub-specialization has created a much needed space for Developmental Pediatrics.
A Developmental Pediatrician can diagnose and assess most developmental delays in your child. However, a separate category of sub-specialization in Neurology has introduced medicine to Pediatric Neurology. A Pediatric Neurologist can address developmental delays that have a neurological component or cause. To know more about differences and similarities between the two new sub-specialties in Pediatrics, please refer to the table show below –
false
DIFFERENCES BETWEEN A NEURO-DEVELOPMENTAL PEDIATRICIAN &PEDIATRIC NEUROLOGIST
false
 Both doctors specialize in treating disorders in children
DEVELOPMENTAL PEDIATRICIAN
PEDIATRIC NEUROLOGIST
Subject of specialization

 A Pediatrician who obtained training exclusively in Developmental Pediatrics.

 Performs growth & developmental  evaluation of your child.

They diagnose and assess –

o Developmental delays
o Education/ learning disabilities
o Behavioral disorders
o Sleep disorders
o Rating scales for ASD, ADHD and other developmental delays
o Non-acute neurological conditions (will most likely refer the family to a Pediatric Neurologist for disorders which have a neurological component to it)

A Pediatrician who obtained
training exclusively in Neurology

 Addresses problems in the nervous system in the child (Brain & spinal cord related)

 Address developmental delays associated with a neurological cause, for e.g. Symptoms of ASD

 Attend to more acute cases of neurology, such as handling and investigating seizure episodes.

Qualification
 MBBS, MD (Pediatrics), Fellowship in Developmental Pediatrics.

 Postgraduate degree in Pediatrics with Developmental Pediatrics as super specialty.

Medical school –> specialty in Pediatrics –> sub-specialty in Developmental Pediatrics

 MBBS, MD (Pediatrics), DM Neurology

 MBBS, DNB, DCH, Fellowship in Pediatric Neurology

Medical school –> specialty in Pediatrics –> sub-specialty in Neurology

Examples of conditions addressed by the medical professional
◦ Learning disorder

◦ Speech disorder

◦ Attention deficit disorder

◦ Developmental disorders (cerebral palsy, Down Syndrome, ASD etc.)

▪ Sensory challenges
▪ Behavioral disturbances
▪ Movement disorders
▪ Head injuries
▪ fine and gross motor delays
▪ seizures
▪ Headaches
Mode of operation

Often work with a team of psychologists, psychiatrists, neurologists, speech therapists, occupational therapists, to collectively address concerns in your child.

Their mode of operation is predominantly community based.

They are  also trained in neuro-rehabilitaion in some countries.

They also work with psychologists, occupational therapists, speech therapists and physiotherapists.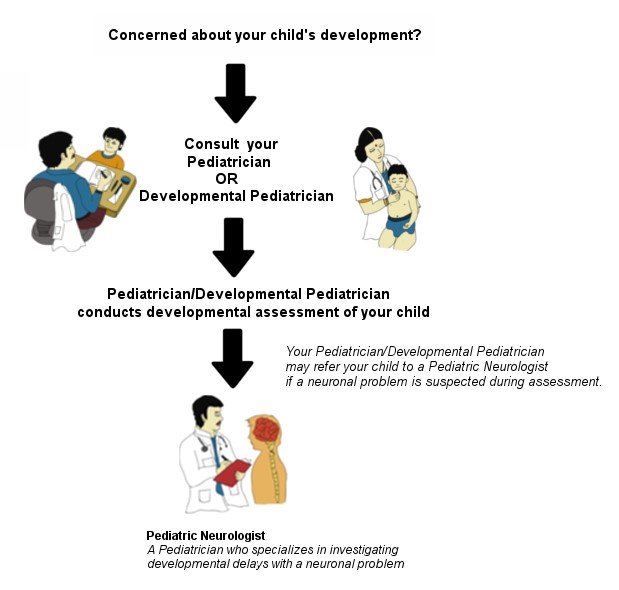 Can't find a Pediatric neurologist in my city – where do I go?
A Pediatric neurologist has expertise in assessing brain-related disorders in children only, but if you are unable to find one near you then seek help from a Neurologist (who consults for adults) about the next best step.
Can't find a Developmental Pediatrician in my city – where do I go?
A developmental Pediatrician specifically has expertise in assessing early developmental delays, but if you are unable to find one near you then seek help from your Pediatrician/Pediatric Neurologist about the next best step.
SO, WHOM SHOULD I APPROACH FOR A DEVELOPMENTAL EVALUATION?
In an ideal situation it must be conducted by a Developmental Pediatrician. However, it is a challenge to find exclusively trained Developmental Pediatricians in India.
Currently, this aspect of investigation is being managed as a team work between Pediatric Neurologists and Child Psychiatrists.
DISCLAIMER: Please note that this guide is for information purposes only. Please consult a qualified health practitioner for safe management.
You may also read about factors that can promote or hinder your child's development that can have a long lasting impact on his/her growth.